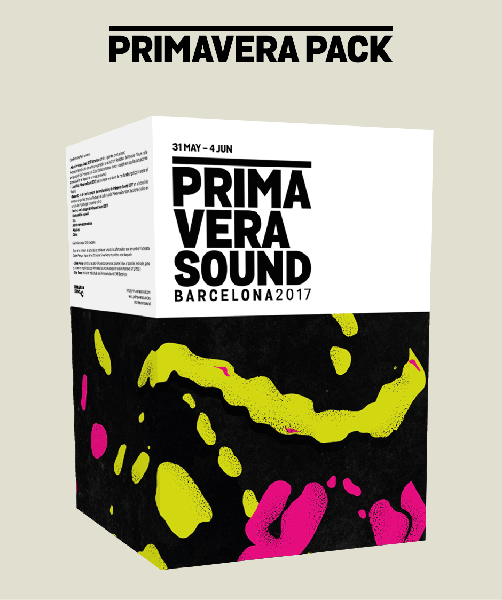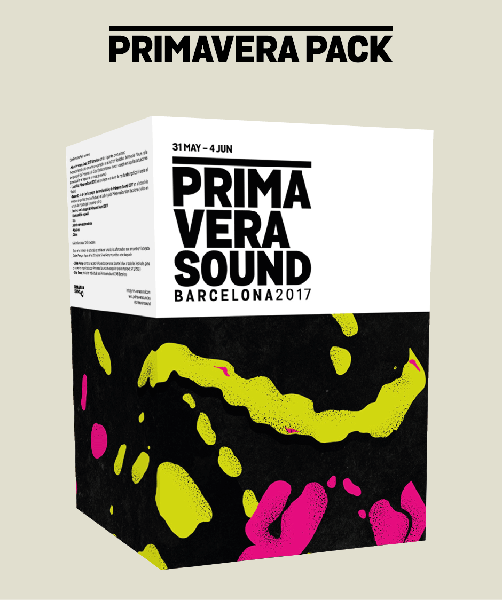 Once again, the organisers of Primavera Sound will offer its now traditional Primavera Pack that, as well as the 2017 full festival ticket, contains exclusive presents and special advantages for the next edition of the festival. Each Primavera Pack contains:
A Primavera Sound Barcelona 2017 full festival ticket with preferential access to the concerts programmed in the Auditori Rockdelux in the Parc del Fòrum and preferential access to the Primavera a la Ciutat programme (until venue is full and except in the case of those for which a reservation ticket is necessary).

Official Primavera Sound 2017 Book (voucher to exchange at the official Primavera Sound merchandising stand during the festival).

A 5€ discount on Primavera Sound 2017 merchandising at the official merchandising stand and in La Botiga del Primavera Sound (Ases 1, Barcelona). Valid for purchases of 10€ and over.

Tote bag with the Primavera Sound 2017 image.

Special edition notebook.

Mug.

Bottle opener fridge magnet.

Stickers.

Balloons.
If that were not enough, 10 Primavera Packs will contain Silver Penny cards (one invitation for Primavera Sound Barcelona 2018) and one Primavera Pack will contain a Golden Penny card (pass with VIP access for two people during 5 years to all the festivals, tours and concerts organised by Primavera Sound with no exceptions, valid until 31/12/2021).
The pack, of which there will only be 1000 units, is now available on pre-sale at the price of €180 (+ advance sale service expenses) on Ticketmaster, the Primavera Sound Portal and, for the first time this year, in La Botiga del Primavera Sound, on the web and through the app Glovo. The dispatch of purchased packs will start on the 12th December. From this date, until 7th January, you will be able to buy it at the same price in La Botiga (Ases 1, Barcelona) or through Glovo and get it delivered to your home within the hour (only for reservations to dispatch in Barcelona).