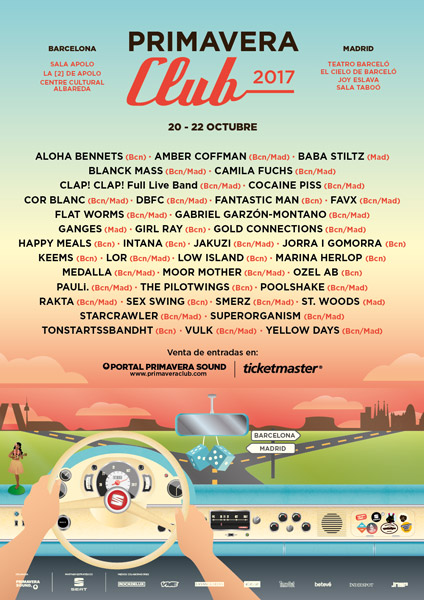 After the 2016 edition in which the names of Minor Victories and Whitney stood out, the organizers of Catalan Festival Primavera Sound have just confirmed a new edition for October 2017 of its little brother, Primavera Club festival. Primavera Club 2017 will have as main novelty the return of duality of cities, since in addition to the usual venue of the Sala Apolo in Barcelona, the festival will double most of its lineup in different concert halls of the city of Madrid, coming back to a format that has already been used in some editions until 2012.
So, Primavera Club 2017 will be held from 20 to 22 October in Barcelona (Sala Apolo and Centre Cultural Albareda) and Madrid (Joy Eslava, Teatro Barceló and El Cielo de Barceló) with a lineup that will include up to 38 artists among whom highlight Amber Coffman, a former member of Dirty Projectors who has released her first solo album this year, and Blanck Mass, a solo project by Benjamin John Power of Fuck Buttons. Of the rest of the poster it is worth to highlight the names of young promises like St. Woods, Vulk, Aloha Bennets, FAVX or the American Gabriel Garzón-Montano, great hope of the R&B that so many media already compare with Canadian Drake.
The tickets for the three days of the festival have already been on sale through the official website of the festival with an interesting price of €25, while the day tickets are priced at €15.