About 4 years ago we were lucky enough to enjoy how Imagine Dragons fill to the brim the main stages of a festival as prestigious as Lowlands in The Netherlands and we had the doubt of how a band with a humdrum live and full of senseless percussion everywhere were able to bring together those big quantity of people.. Yesterday, with their worldwide fame growing by leaps and bounds after the success of their latest album Evolve (2017), it was time to give them a new chance, and luckily for us the sensations have turned 180 degrees as the band from Las Vegas gave a remarkable concert, where its sound has been much more balanced highlighting an exceptional clarity, and where the main presence of songs from the aforementioned last album and a spectacular scenery has conquered the more than 10,000 attendees who almost filled the Palau Sant Jordi in Barcelona.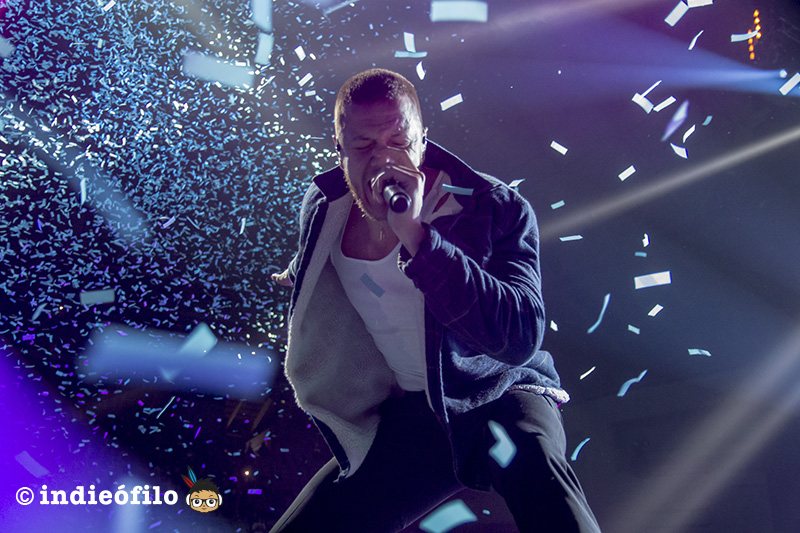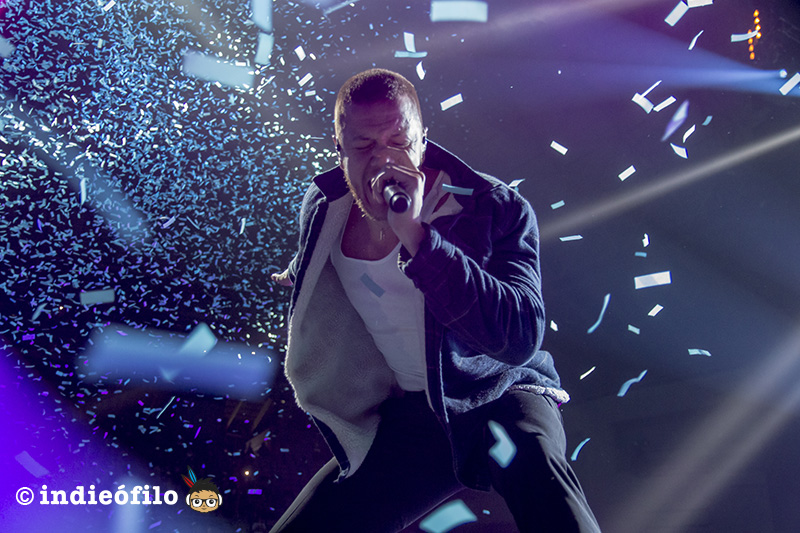 Dan Reynolds – Imagine Dragons, Palau Sant Jordi Barcelona (06/04/2018) – Photo made by Esther Vicente Garcia for Indieofilo©​
The band led by Dan Reynolds has jumped on stage after a short video by the hand of a spectacular set of multicolored lights, which have been the perfect counterpoint to the huge volume of Daniel Platzman at the bass drum in "I Don't Know Why". This song was the kick off of an amazing first half hour where we were going to be able to enjoy "Believer", which started acoustic by the hand of Wayne Sermon's guitar to increase the rhythm little by little and make the audience go crazy. After a short speech by Dan Reynolds in which he highlighted a message of love, peace and tolerance and where the singer started to speak broken Spanish (reciting even some stanzas of "Juantanamera"), it would be time for one of their first hits, "It's Time", that like its predecessor started something slow to go up its pace little by little accompanied by confetti, white smoke cannons, and in a sample of the support that the band makes towards the LGBTI cause, a rainbow flag that has hung from the Microphone stand of the leader of the band throughout the song.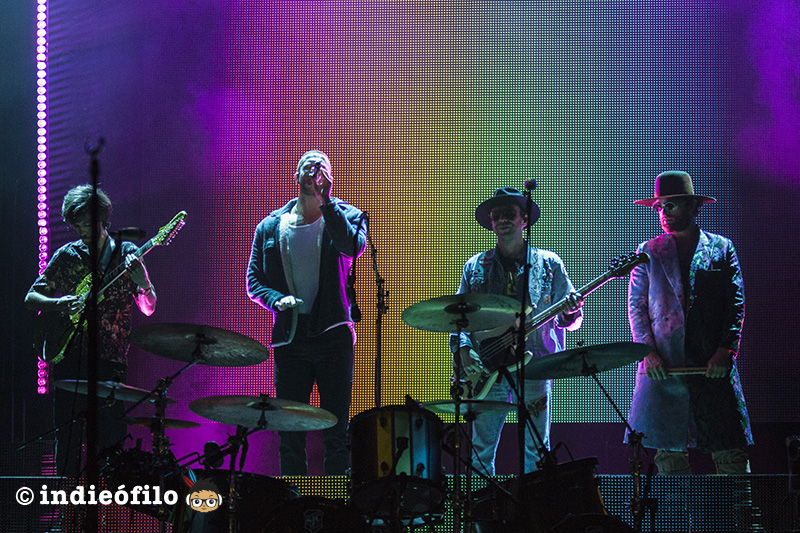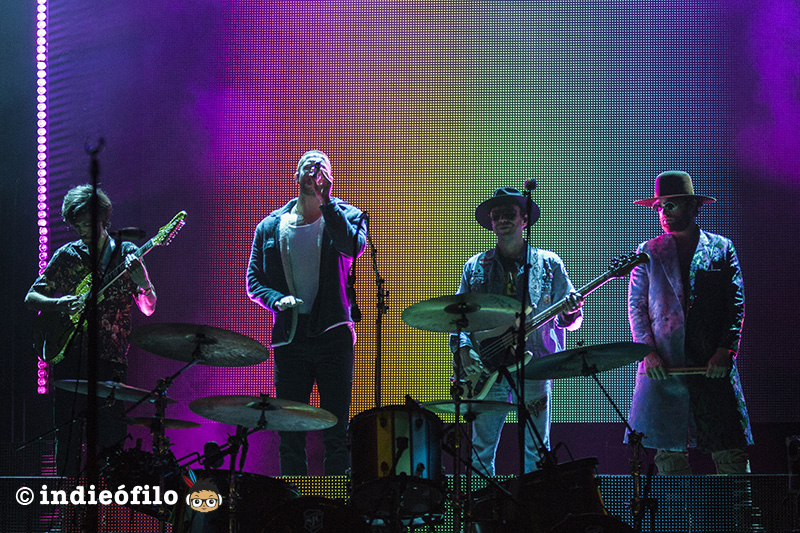 Imagine Dragons, Palau Sant Jordi Barcelona (06/04/2018) – Photo made by Esther Vicente Garcia for Indieofilo©​
"Gold", with the 4 members of the group on percussion, and a short version of Bob Marley's "Three Little Birds" in which the Sant Jordi Arena has been filled with lights from the flashes of the public's phones have relaxed the environment, which has risen immediately with the powerful "Whatever It Takes", possibly the best theme of the night in terms of sound quality, with clear choirs that have perfectly merged with the rest of the instruments. Since then, the concert has been gradually losing pace and strength with the appearance of minor songs such as the pop rhythms of "I'll Make It Up To You", "Mouth of the River" or "Start Over", returning to resurface slightly with "Demons", where the singer of the band has confessed that a few years ago he was diagnosed with depression being something "that he during sometime he has hid, because he thought it was a weakness" and encouraging everybody to destigmatize the disease and not be afraid to run to get help from the family, friends or specialists.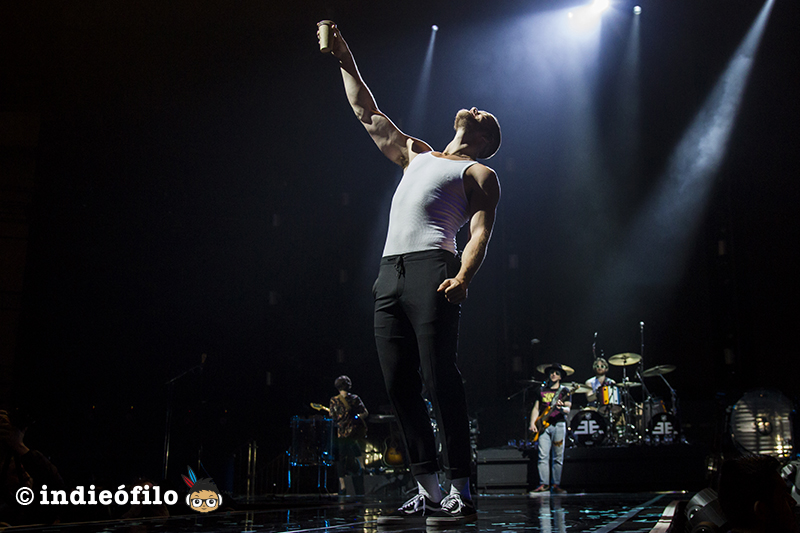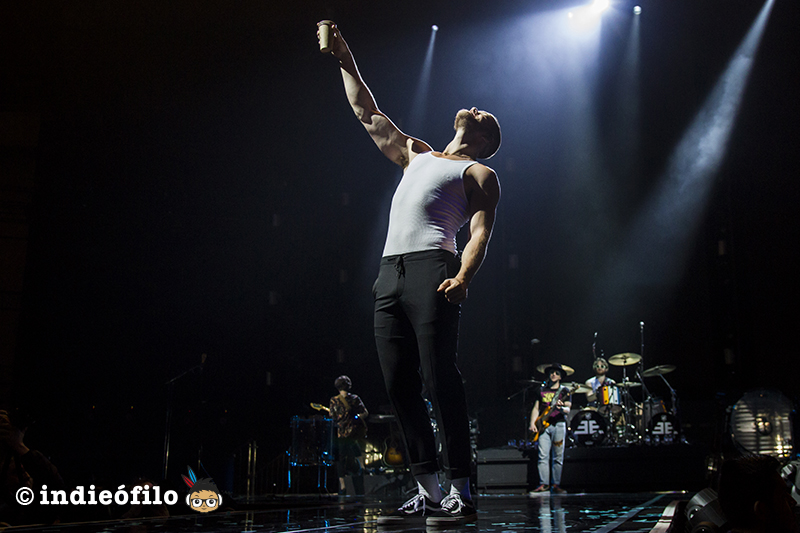 Dan Reynolds – Imagine Dragons, Palau Sant Jordi Barcelona (06/04/2018) – Photo made by Esther Vicente Garcia for Indieofilo©​
Tras la fiesta multitudinaria con globos gigantes que han caído del techo del pabellón en "On Top of the World", la banda ha bajado del escenario principal a uno mucho más pequeño situado en medio de la pista, donde con la ayuda de hasta 2 cellos y un violín han interpretado en acústico "Next to Me", la ya lejana "Bleeding Out" y una sensible "I Bet my Life" que ha recibido una de las mayores ovaciones de la noche. Ya de vuelta al escenario principal, los norteamericanos han desatado la traca final con su éxito más reciente "Thunder", en donde han sido acompañados por K. Flay sobre el escenario, y en los que pese a un inicio algo débil en lo que a potencia se refiere, la canción ha ido cogiendo fuerza poco a poco. Tras "Walking the Wire", la banda cerraría el show con su mayor hit "Radioactive", demostrando que tras cerca de dos horas de concierto su sonido, y especialmente la voz de Dan Reynolds, seguían manteniendo el altísimo nivel de los primeros temas.
After the massive party with giant balloons that have fallen from the ceiling of the pavilion in "On Top of the World", the band has descended from the main stage to a much smaller one located in the middle of the ring, where with the help of up to 2 cellos and a violin they have interpreted in acoustic "Next to me", "Bleeding out" and a sensitive "I Bet my Life", that has received one of the biggest ovations of the night. Already back to the main stage, the Americans have unleashed the final fireworks with their most recent hit "Thunder", where they have been accompanied by K. Flay on stage, and in which despite a somewhat weak beginning as to power is concerned, the song has been taking force little by little. After "Walking the Wire", the band would close the show with their biggest hit "Radioactive", showing that after about two hours of concert their sound, and especially the voice of Dan Reynolds, was as strong as in the first songs maintaining a high level.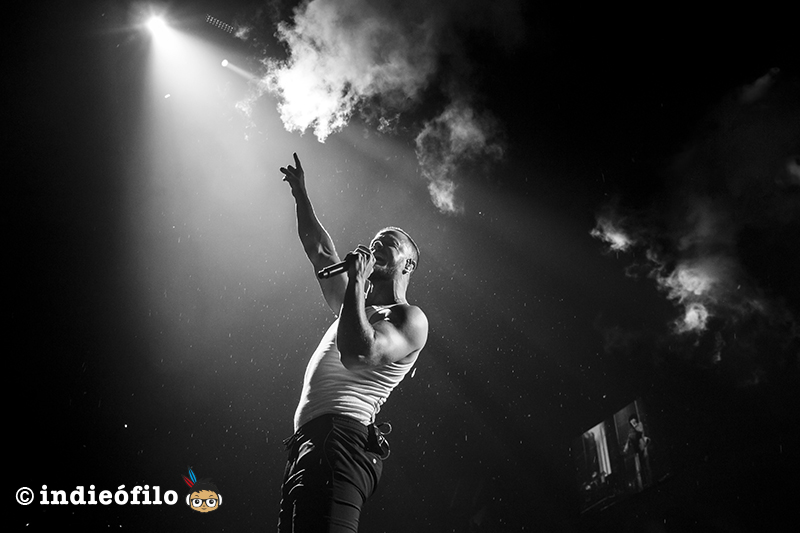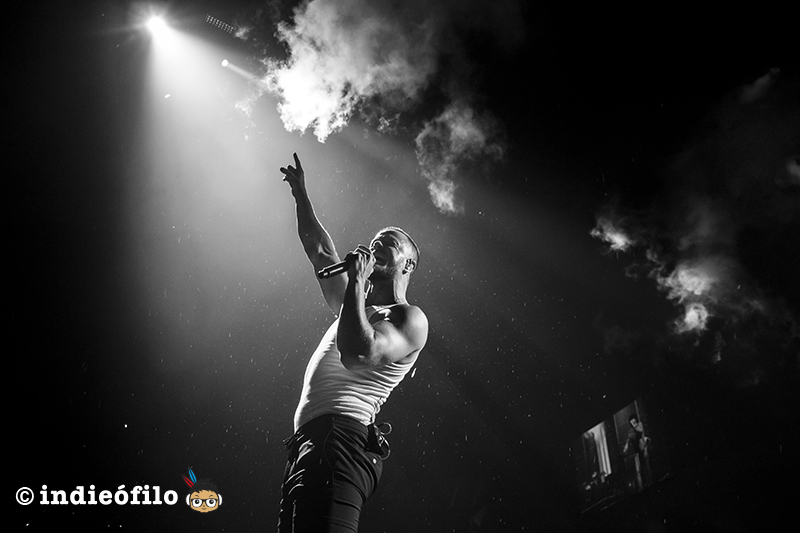 Dan Reynolds – Imagine Dragons, Palau Sant Jordi Barcelona (06/04/2018) – Photo made by Esther Vicente Garcia for Indieofilo©​
So, great concert of Imagine Dragons, who have found an almost perfect balance between the show of drums and percussion of its beginnings and an incredible musical quality, which allows them to score at a high level for more than 2/3 parts of the concert. Some small gaps in the setlist don't tarnish an incredible concert in which in addition to the merely musical highlights the charismatic, close and honest presence of a Dan Reynolds that gain anyone in the audience since the first song.