Three years after her last visit to Barcelona, Florence Welsh was returning to Barcelona to present her latest album High as Hope (2018) at Palau Sant Jordi. The supporting band of the night were Scotland's Young Fathers, winners of the prestigious Mercury Prize in 2014, surprised an audience eagerly awaiting the extreme pop delicacy of Florence and her band with their mix of accelerated beats and soul-punk. Those of us who had already enjoyed Young Fathers in the past and their incredible live performance could enjoy 30 unbridled minutes in which a good part of the songs of their last LP Cocoa Sugar (2018) were played, highlighting especially the power of Alloysious Massaquoi and the catharsis of rhythms unleashed by Graham "G" Hastings in a discreet background in the final track "In my View".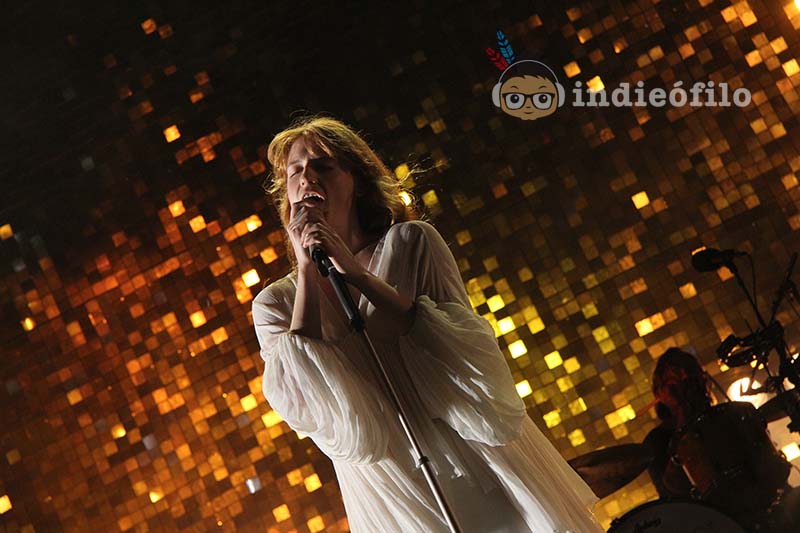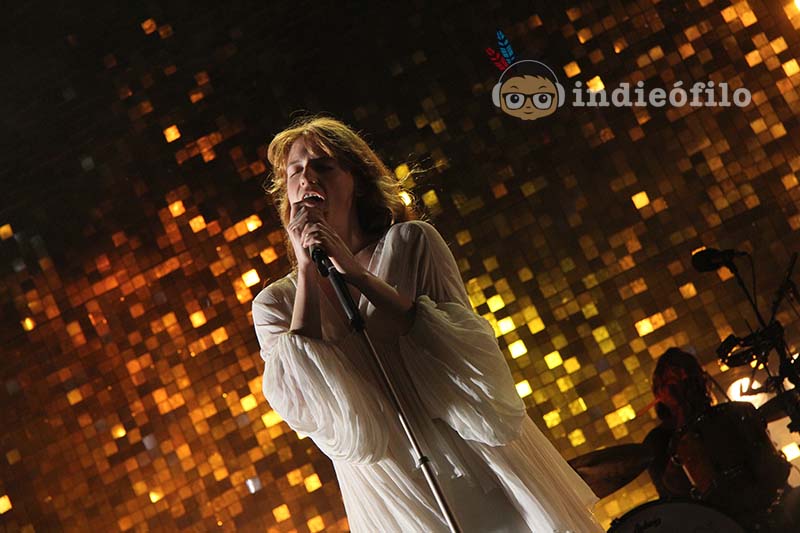 Florence + The Machine, FIB 2015 – Photo made by Juan Jesus Gregori for Indieofilo©
With a careful scenography, accompanied by up to eight musicians (where a double percussion, a violin or Tom Monger on the harp stand out), Welsh jumped onto the stage and from the first momento one she showed to be an authentic mass leader despite her external fragility or the delicacy of her sound. Like her new album, the concert got off to a cold start with "June", to immediately turn everything upside down with the first big song of the night, "Hunger", in which she relates some of the personal and family problems she has suffered since childhood..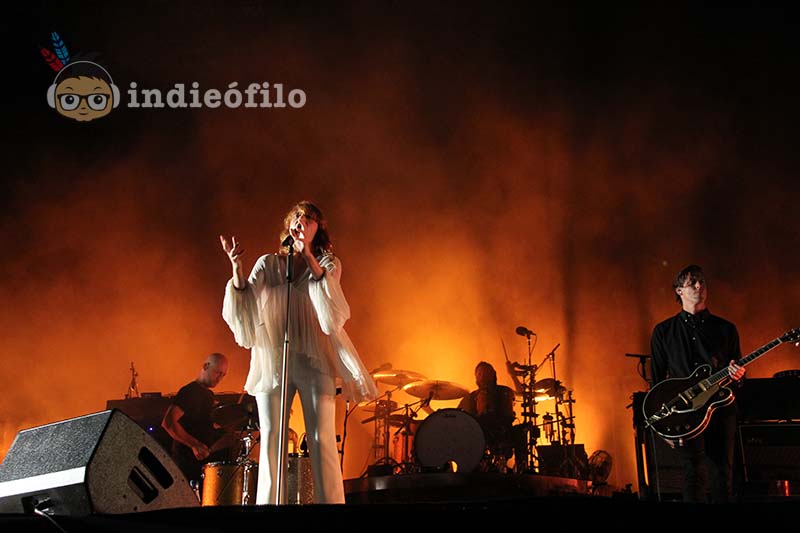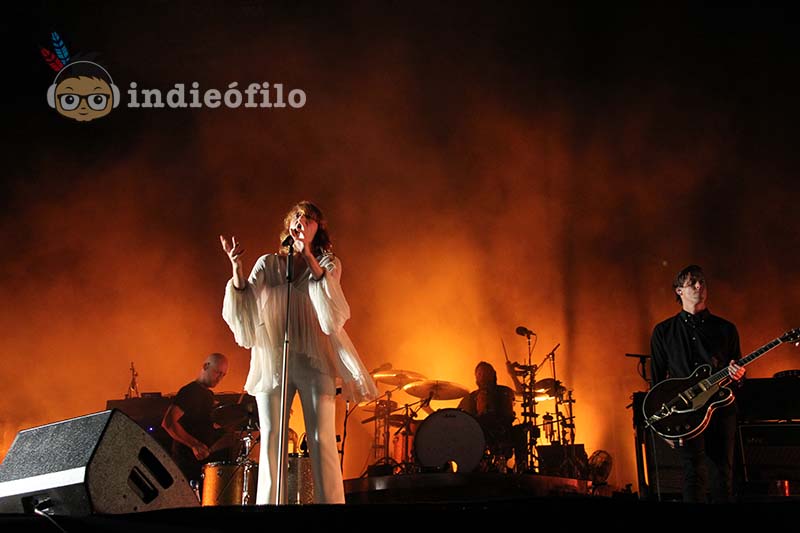 Florence + The Machine, FIB 2015 – Photo made by Juan Jesus Gregori for Indieofilo©
Between dances, jumps and approaches to the public of the first rows, the concert was passing fast until it dedicated "Patricia" to Patty Smith, realizing then a small speech against the "toxic masculinity", igniting again a public that would go crazy with the trio "Dogs Day Are Over", "Ship to Wreck" or the recent "Moderation", that demonstrated that it can already be considered a classic of her repertoire by the force that it gives off. And it is precisely at this moment of maximum recognition where Florence shows her side of a different superstar, with an innate sensitivity and good taste for details, without this being at odds with an overflowing personality that manages to make the whole Sant Jordi crowd to forget their mobiles phones during some songs, following the British's words.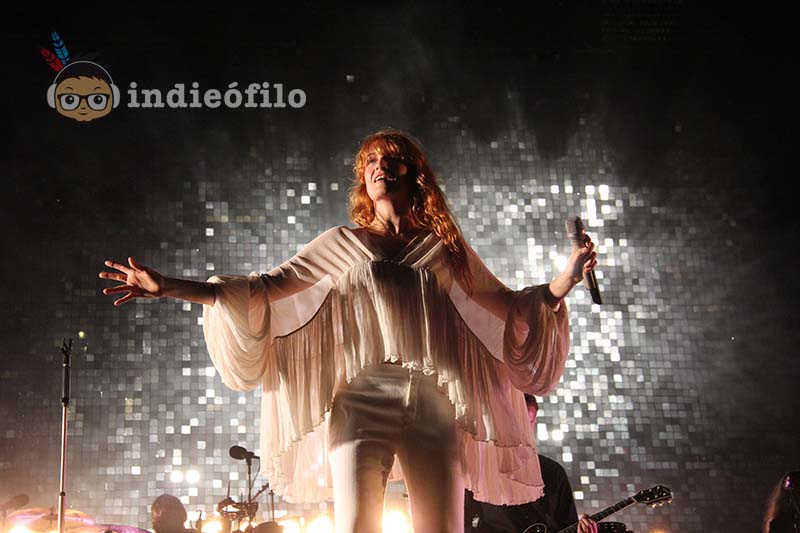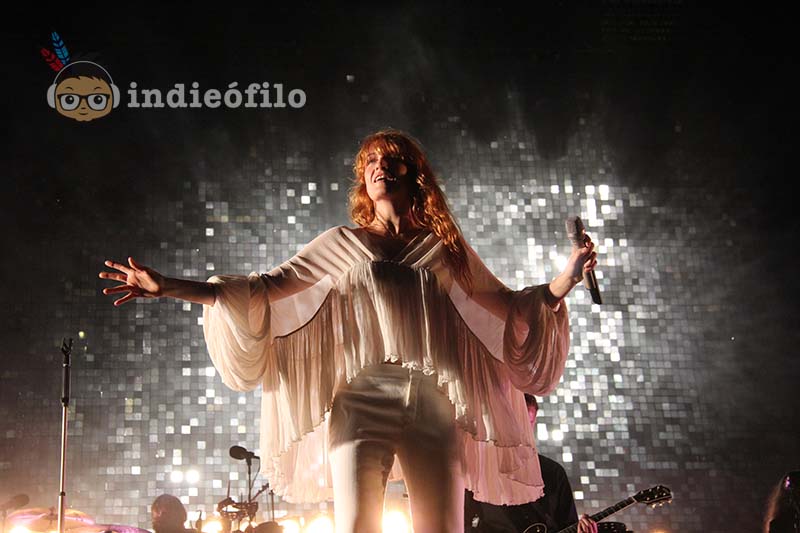 Florence + The Machine, FIB 2015 – Photo made by Juan Jesus Gregori for Indieofilo©
The drums of "Cosmic Love" was the prelude of an incredible final fireqorks, first with "Delilah" interpreted from the sound table or with the messianic "What Kind of Man", fantastic closing before some encores that started somewhat decaffeinated with the dispensable "Big God", but that would reappear like a phoenix with the massive karaoke of "Shake It Out". Florence is currently one of the biggest pop stars nowadays, and for our luck, she does it from a sincere proposal full of quality, with an excellent musical accompaniment, but above all, with leadership skills from the empathy that many of today's politicians would like for themselves