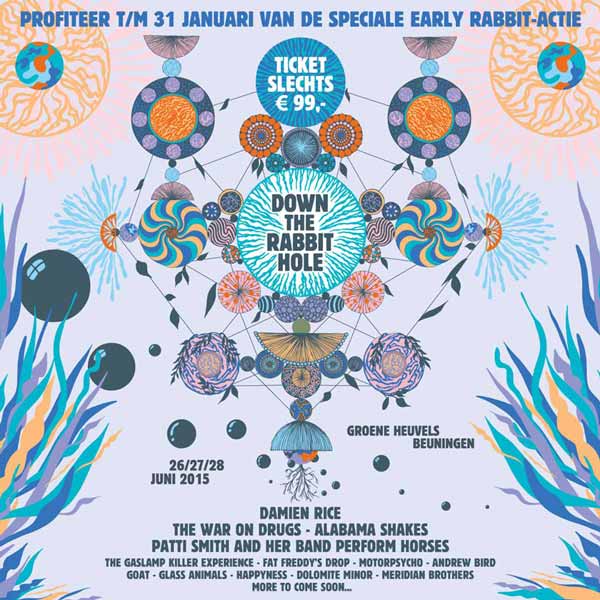 (Image updated on 23rd January with price and names on it)
Inspired by big brother Lowlands, three-day festival Down The Rabbit Hole, that will be held in De Groene Heuvels closer to Beuningen (Gelderland) from 26th to 28th of June 2015, has just confirmed the first names for its second edition.
The first big name for this 2015 edition is Irish Damien Rice, that will present his awaited new album My Favourite Faded Fantasy after more than 8 years without new LP's. Also other important names are Americans, The War on Drugs and Patti Smith, the first ones performing their acclaimed Lost in the Dream, while one of the great females in rock history will perform entirely her classic album Horses. This batch also includes Alabama Shakes, The Gaslamp Killer Experience, Fat Freddy's Drop, Motorpsycho, Goat, Andrew Bird, Glass Animals, Happyness, Dolomite Minor and Meridian Brothers
3 days tickets are available on its official Website from €99 till February 1 on a discounted price, growing up until €125 from this day on. No day tickets will be available.