There are times when you plan your attendance at a musical event in advance. Sometimes we are even forced to do it due to the haste with which tickets go on sale for 100% sure sold-out concerts that will be held next year. And there are times when at the last minute everything goes to hell preventing you from enjoying that concert you were waiting hopefully, as it happened to the one who writes these lines, who had to make his move quickly on the weekend of the Primavera Club 2017, so exhausted that could not attend to the festival on Friday (By the way with excellent reviews from our press colleagues for Starcrawler, Girl Ray and DBFC) and could barely enjoy only half of Saturday and Sunday shows.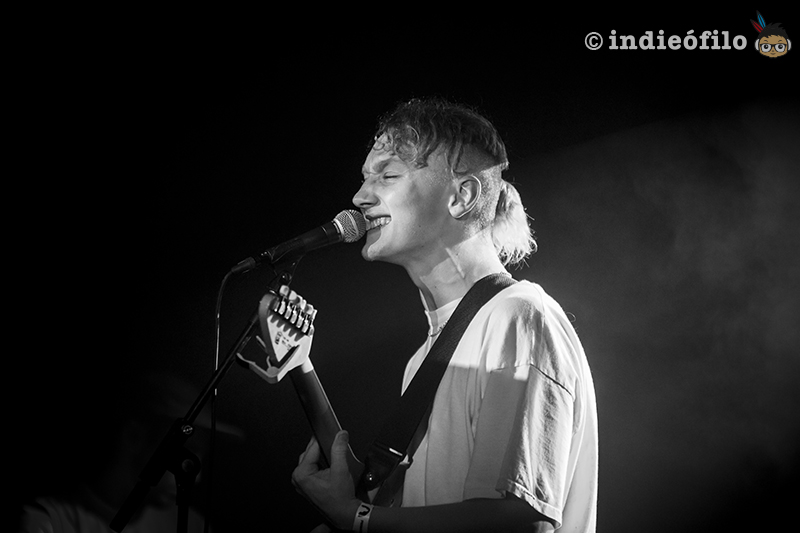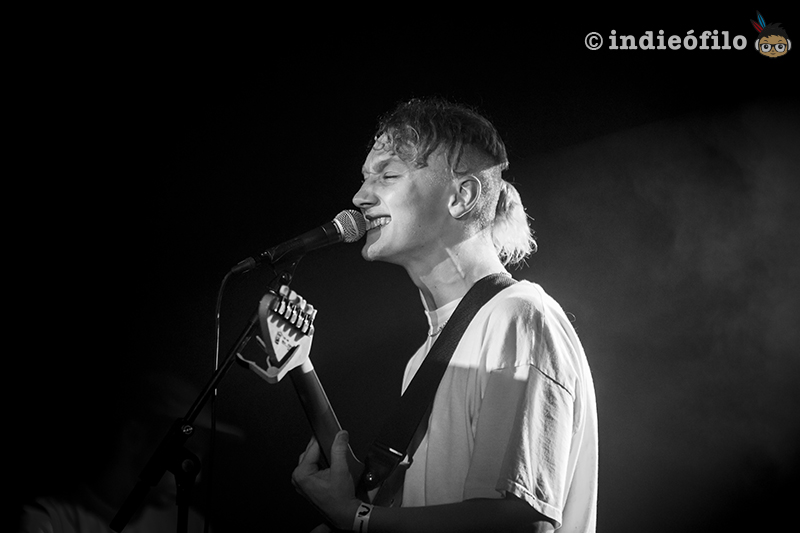 George van den Broek from Yellow Days, Primavera Club 2017 – Photo made by Víctor Ramos for Indieófilo©
So, our entrance to this year's edition of the festival, and therefore the remodeled La [2] room, was going to be with the young British George van den Broek and his project Yellow Days. His mix of soul and melodic blues in which you can find nuances from Ray Charles and Mac Demarco or above all his compatriot King Krule, conquered with his peculiar voice to a room that got stuck into into the show from the first theme, the cozy "A Little While". With a setlist mainly focused on his only disc released Harmless Melodies (2016), we could also listen some songs of his new album Is Everything Okay In Your World? (2017), that will go on sale this week, as "Holding On" or the oneiric "Hurt in Love".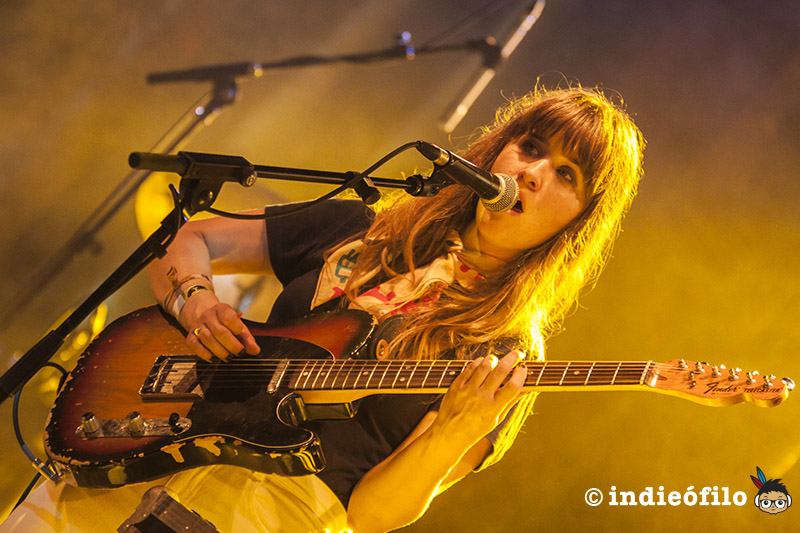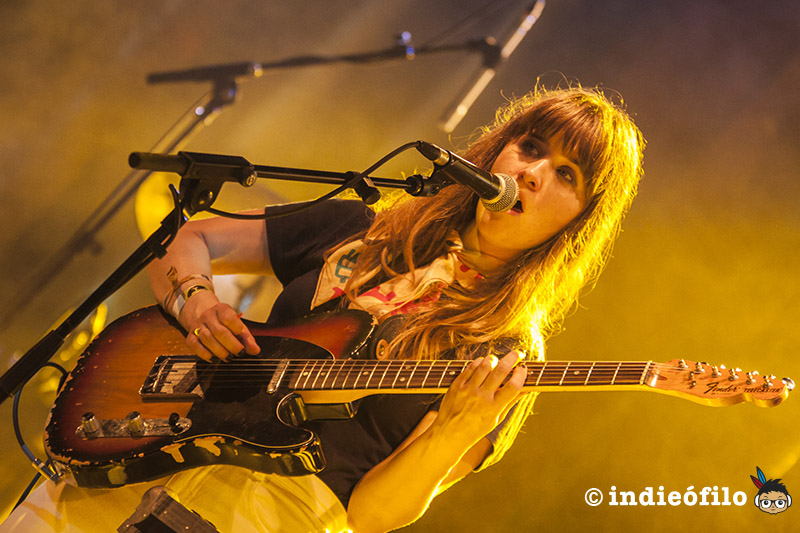 Amber Coffman, Primavera Club 2017 – Photo made by Víctor Ramos for Indieófilo©
Taking care of not to fall on the dimly lit new stairs to the main hall of Sala Apolo, we went up quickly to the great consecrated name of this edition, the American Amber Coffman, who after leaving Dirty Projectors has focused on her solo career presenting her first solo album City of No Reply (2017) this summer. With a high quality band, hers was a concert perhaps too linear, with a very melodic pop that invaded everything and in which the warm voice of the Texan woman was the absolute protagonist during a good part of the show. The best moments came with the percussion and synthesizers of "Nobody Knows" or the Caribbean rhythms of "City of No Reply".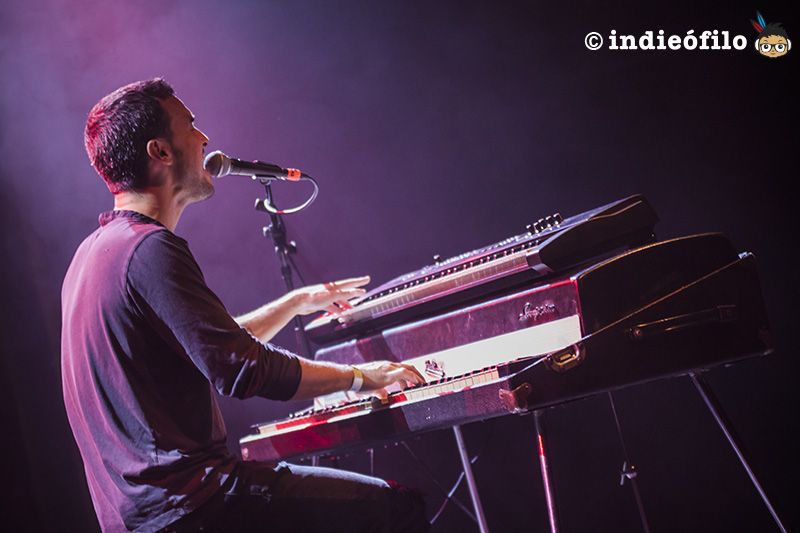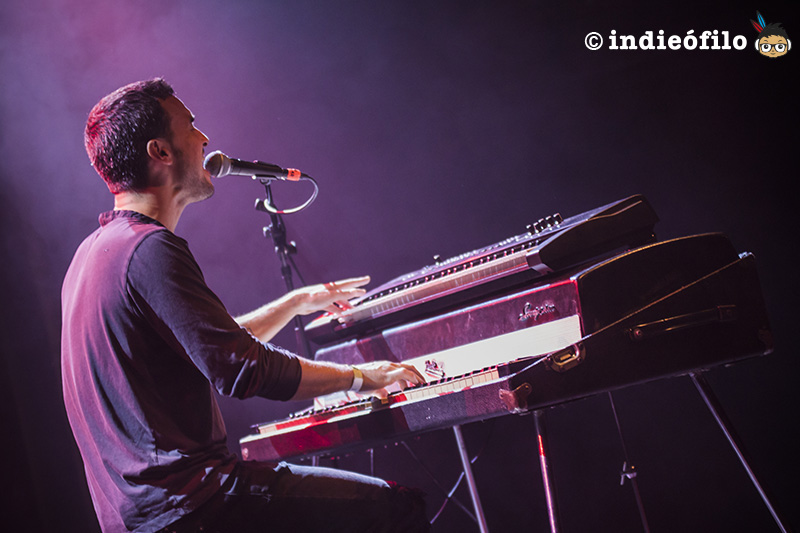 Gabriel Garzon-Montano, Primavera Club 2017 – Photo made by Víctor Ramos for Indieófilo©
The great Spanish bet of the day was the Basques Vulk, expected to dominate the post punk scene in Spain in the coming years. With an overwhelming energy, especially that of their singer Andoni de La Cruz, the guys from Bilbao hit the stage of La [2] in a little more than thirty minutes that were fast like lightning, remembering at times to Fat White Family to some songs from his first LP Kamerlander Beat (2017) as "Something Internal" or "Zaldia Burning". Back in the main hall, the New Yorker Gabriel Garzón-Montano started his concert with some words in Spanish to immediately show his mix of pop, R & B, electronics, funk and even soul that remembers to James Blake, Anderson.Paak and even Prince. His minimalist and care concert was a delight where his voice was modulating between delicate and strident according to the song, to disengage step by step his great album Jardin (2017) and finish the concert with a cumbia.. His only but was the abuse of the prerecorded bases, since we are sure that his show would have improved quite a lot of having a real percussion behind.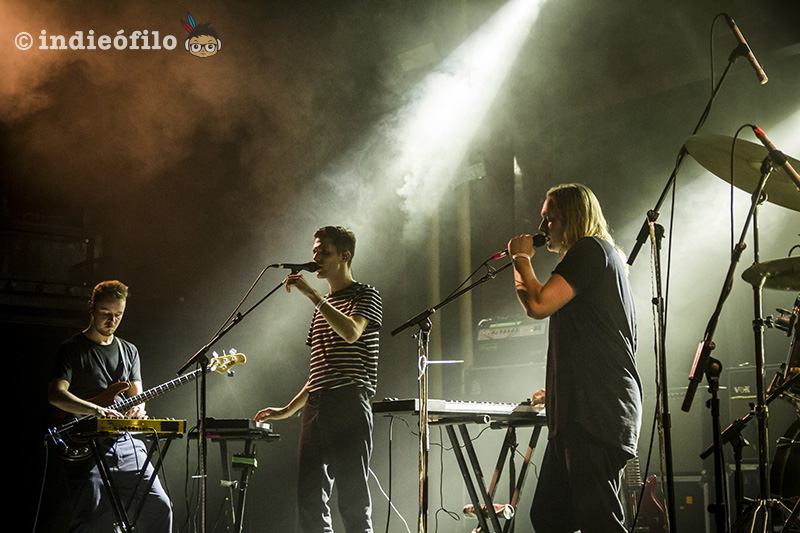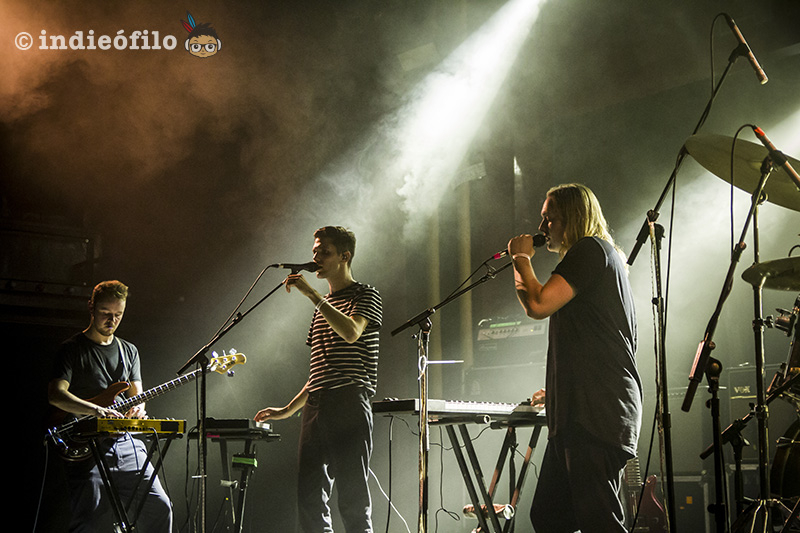 Low Island, Primavera Club 2017 – Photo made by Víctor Ramos for Indieófilo©
Already on Sunday the first slap would come from the hand of the Scottish Happy Meals, whose live sound gains potential compared to the singles we have listen from them in recent months. By the hands of a masterful Suzanne Rodden, who sings the same in English as in French, her concert was turning from the psychedelia of Peaking Lights to the electronics of Crystal Castles. It was a pity that their concert started with some delay, which made the final minutes of it overlap with the start of Low Island in the main room, since with the rhythm in crescendo its final promised to be amazing, but the presence of Englishmen in the big room well deserved to risk.. The band from London had not played so far outside of Britain and that was why there was so much desire to check if all the good things that had been uploading to their Soundcloud was a reality. With a very variable style that at times is reminiscent of Wild Beast or Glass Animals and in others even a light version of Radiohead, little by little they were winning a room that was slow to enter their proposal at the beginning. Reserved dances and catchy choruses were the rules of a concert in which the rhythm "Holding it Down" stood out.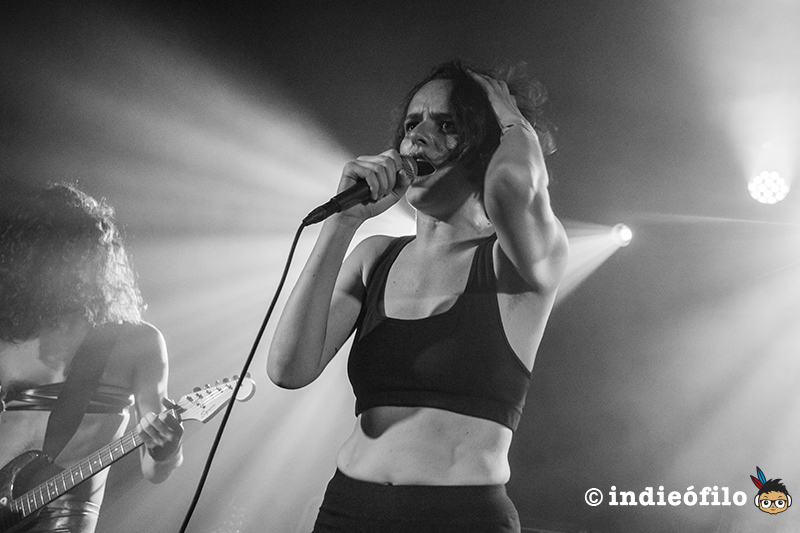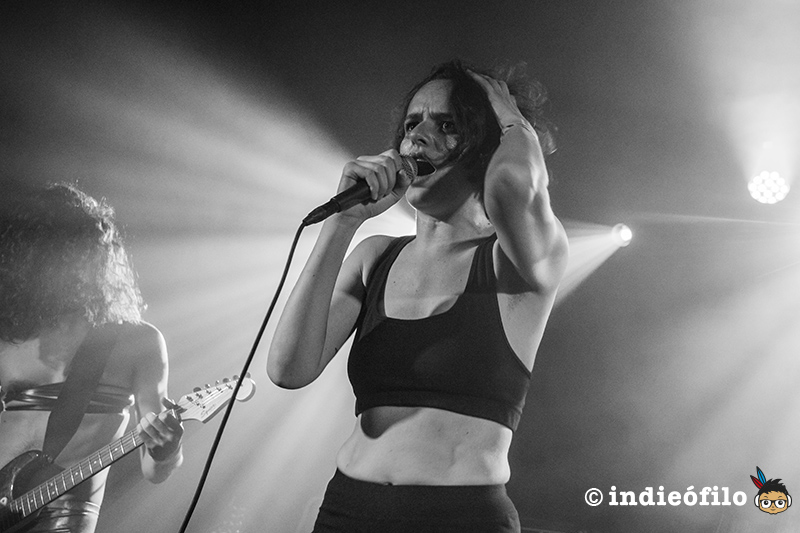 Aurélie from Cocaine Piss, Primavera Club 2017 – Photo made by Víctor Ramos for Indieófilo©
The aftertaste of calm and tranquility would disappear quickly as soon as we went down again to La [2], where the Belgians Cocaine Piss turned upside down the room with a classical punk concert in which highlighted their singer Aurélie, who spent more than ¾ parts of the concert singing from the audience. That improvisation typical of punk caused that at times his concerts faltered in rhythm, but the good work of his bass player Julien Diels or songs like "Piñacolalove" kept the live of the Walloons afloat.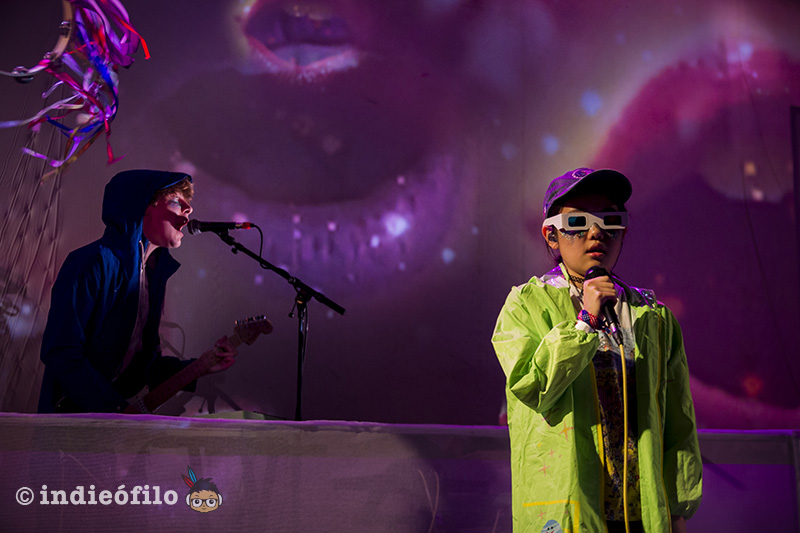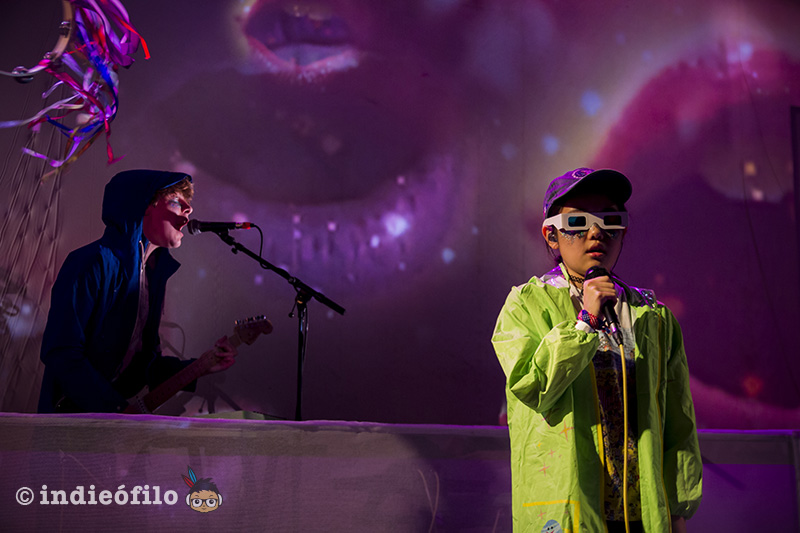 Superorganism, Primavera Club 2017 – Photo made by Víctor Ramos for Indieófilo©
With the festival coming to an end, it was time for the big name of this edition, the multicultural collective Superorganism. Between screens of projections, glitter and colors everywhere, their electronic pop was gradually invading a main hall of the Apollo that surprisingly did not reach even the middle entrance. Led by the candor of the singer Orono, theirs was a happy and casual concert that at times reminded The Go Team!, Animal Collective or even The Polyphonic Spree thanks to some very successful choirs and the psychedelia of the screenings. It is true that at times it is difficult to take into consideration their proposal seriously because of the excess of scenery, but it must also be recognized that as soon as songs such as "Something for your M.I.N.D." or "It's All Good" sound, is impossible to not love them to death. Their presence at the Primavera Sound 2018 late at night would be a amazing!