Ultra – Presion is the continuation of Nudozurdo third album, an EP with 5 songs where Leo Mateos has recorder again all the voices from the masters of the sessions of Tara – Motor -Hembra. I don't know if they consider it a new project, but on these new versions, they get a new look to all songs that make us thinking if we are against new songs..
"Cementerio de errores", first track of this EP, is one of those songs that leaves you knocked out instantly, it is pure energy full of elegant dark heartbreaking, with distorted guitars and the singular voice of Leo Mateos hitting his way of singing, half-spoken and melancholy… "Sé justo/ Sé dueño/ Sé listo/ Sé sabio/ Sé tierno/ Sé barro/ Sé fuego"…"Contigo Sin tí" is the most intimate theme of this Ultra – Presion. A ballad with gentle pressure guitars, which tells about the intense and strange relationships, shedding some light on the shadows and offering the possibility of a redemption of pain, something they do not have too accustomed.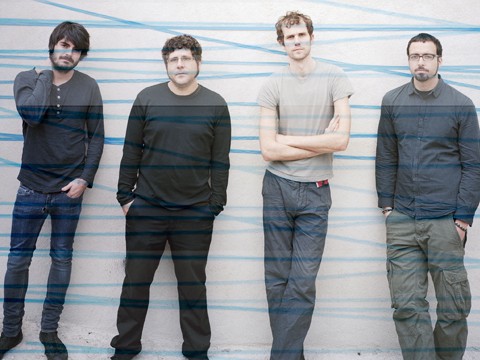 "Chica Promo" was the song chosen as a single, so closer to their well known song "Soy el hijo de Dios", based on the repetition of a dense rhythm leading to an explosive finale, where Leo Mateos makes a kind of sermon on a story full of nuanced claims, a guy hooked to dress advertising merchandising. "Hasta que se parezca" is one of those dark pop tracks with indescribable lyrics, and finally "Campo Dorado" that is together with "Cementerio de errores" what I most liked about this Ultra – Presion, a longer on time song, with and hypnotic and psychedelic melody and with anguish bleeding magnetized lyrics that achieve the songs seems totally different from the one at Tara – Motor – Hembra.
If already last year, Tara – Motor – Hembra, was one of the best national album 2011 for me, I declare unconditional fan of Leo Mateos' band. I can't deny it, not least because the connotations of the agonizing, morose, and noisy universe that Nudozurdo present, and that help us with a distortion of reality, sometimes sad, disgusting and hard … Avoiding the suffering don't lead us to a state of hopelessly outdated happiness, and work after work, Nudozurdo remind us it….